Catalyst:Ed relies on a mix of earned revenue and foundation grants to fund our work. Our primary source of earned revenue is from "matching fees" charged to organizations and providers when projects are matched through our process. We suspended the charging of fees in April 2020 to ease the burden on our partners and providers in the wake of the COVID-19 pandemic. We took our time in restarting these fees so we could make sure that our structure and process was equitable and in line with our organizational values. Catalyst:Ed will begin charging matching fees again for projects that start after November 1, 2022. We share more about the rationale behind the fees below.
THE RATIONALE: Why does Catalyst:Ed charge fees?
The revenues we receive from our matching fees help us cover some of the costs of providing our services to organizations and providers. While Catalyst:Ed receives foundation grants, they are typically limited to specific projects and do not cover many workstreams that are core to our work, such as: identifying and vetting providers, engaging with and supporting providers, identifying new partners, supporting organizations that fall outside the parameters of specific grants, and investing in our technology and data systems. Our project matching service fees allow us to invest in these workstreams. This per-project fee is the only time we ask our providers to contribute to us. Their support allows us to offer them—and other providers in the network—benefits such as access to projects, insight into what support organizations are seeking, connections to peers, and support through topical community calls and special programs like the Arc Collaborative.
THE SPECIFICS: How much are fees, who pays them, and when are they charged?
The per-project matching fee to organizations and providers varies depending on whether: (1) the project costs are supported by a funder via consulting wallets or not, and (2) the organization is in a longer-term partnership with us (self-funded or foundation funded). We provide details below:
Fees structure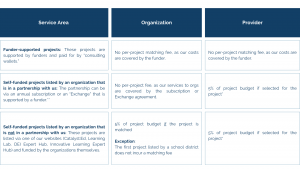 As reflected in the table above, per-project matching fees are only charged for projects that foundations do not fund, and also only if the project is actually matched. Catalyst:Ed does not charge any fees for its scoping and matching services if a project is not matched if a project is not matched. 
Catalyst:Ed invoices partner organizations and providers for fees at the start of the project based on the budget outlined in the project proposal/project agreement. Organizations and providers may pay at any point of time during the course of the project. 
EQUITY FUND: How are we mindful of equity in our fee structure?
We are establishing an Equity Fund to support small, POC-led, POC-serving organizations and providers who may be facing hardship. This is how it works:
For education organizations:

Provider support can be truly catalytic for the growth and development of organizations but fees can be a barrier to accessing that support. Recognizing this,

organizations

led by people of color, that primarily serve communities of color, and have an annual budget of less than $1M can apply for a fee waiver.  

For providers:

Likewise, independent providers who identify as POC or POC-led provider organizations with fewer than 5 employees can apply for a fee waiver. 
Catalyst:Ed currently funds the Equity Fund, but all members of our ecosystem can choose to contribute to it as well. 
We hope these changes will help us continue to foster a vibrant, diverse, and equitable ecosystem. We appreciate those of you who have been on this journey with us since the beginning and look forward to continuing our partnership with you.