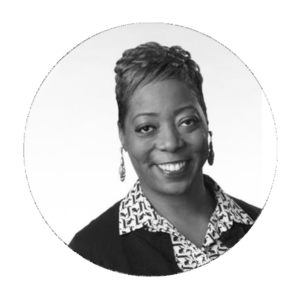 by Rasheeda Washington, Expert-in-Residence 
ERGs were formed last month as a direct call to action from many Experts who wanted affinity groups within our network. Here, Rasheeda shares the purpose of the ERGs and a video introducing the five ERG leaders.
When I joined the Catalyst:Ed team as an Expert-in-Residence, a core element of my work was to leverage my experience as a member to identify ways to build community and connection among the growing expert network. The growth and evolution that the Catalyst:Ed network has experienced over time has introduced so much vibrancy and opportunity, and also surfaced some new challenges that we, as a virtual community, face. Last year we conducted a network survey and we looked at best practices in the sector for guidance on how to advance this work. Particularly, experts indicated that it can be hard to get and stay connected and find ways to collaborate with other consultants. 
To address this challenge, in October we launched five Expert Resource Groups (ERGs) – New Consultants, Experienced Consultants, DEI, Allies, and School Reopening – to create opportunities for experts to learn from one another, partner together, and grow professionally beyond our monthly community calls. The goal of the ERGs is to create spaces where members of the Catalyst:Ed network can:
Make connections with others including partnering with other experts on projects

Engage in open and safe conversations

Access a space to share ideas and push our thinking in order to better serve clients and the communities they serve

Exchange ideas, resources, and best practices
The ERGs are led by network volunteers. The Catalyst:Ed Team is committed to making the ERG experience one that maximizes its value for participants. They are meant to create a sense of belonging because we want our Experts to feel invested in the work and to feel supported by CE. They are a place where Experts can be safe, heard, and connected, especially for full-time independent consultants. Finally, they create space for Experts to organically meet and network with other like-minded people with the intention of fostering partnerships and connections.
We are all excited to see how the ERGs grow and evolve! Check out this short video featuring our ERG leaders–Verenice Gutierrez, Kathleen LaTosch, Samara Hakim, Heather Cope, and Shira Woolf Cohen–for more information about each of the five ERGs. If you have any questions, please contact me at [email protected].
Rasheeda Washington founded Beyond Sixth to support organizations in achieving significant outcomes and impact through developing and implementing solutions based on the people, values, and culture of their organization. She is an experienced supply chain and operations professional with deep expertise in process improvement, organizational capacity, strategic planning, and business process design.
Over the past seven years, Rasheeda has focused on K-12 education and non-profit work. She connects big-picture thinking with execution in a manner that drives positive results. She has a Bachelor of Science in Business Administration from The University of Tennessee, Knoxville and a Master in Business Administration from the Krannert School of Management, Purdue University. She is also an alum of The Broad Residency Program. Rasheeda is a proud fur-mom to her rescued terrier KJ; and loves roller skating, hiking, and shoe shopping.