by Tre Johnson, Partner, DEI
DEI Partner Tre Johnson reflects on the limiting separation of Black history from American history, the invisibilization of Black presence in American present, and the necessity of amplifying Black stories and people to envision Black futures that are congruent/continuous with America's future.
---
I've recently been re-reading sci-fi/fantasy novelist N.K. Jemisin's blog post that inspired her book of short stories "How Long 'til Black Future Month". In it, Jemisin (who is an unprecedented 3-time Hugo Award winner, basically the Oscars of science fiction literature) talks about the jarring reality of how many future-oriented stories in popular culture and therefore society, do not include the presence of Black people. In her piece, Jemisin talks about this stark epiphany when she's watching The Jetsons, the old 1960's cartoon series following a family in the distant future. The blog is worth reading as is virtually everything from Jemisin, but its central questions early on are where are we in these stories? Why have or are we written out of the future?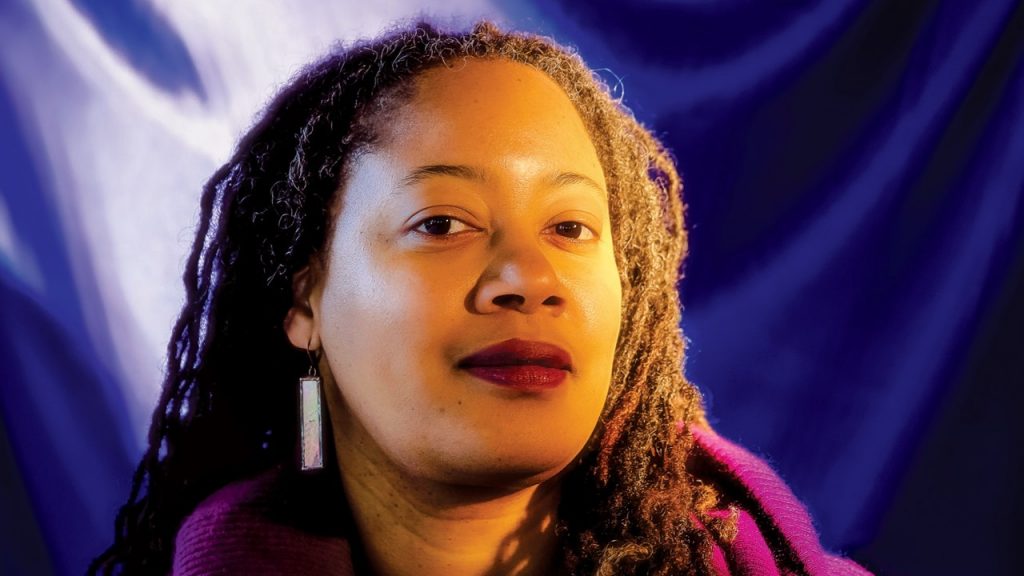 Image credit: Rochelle Brock for The New Yorker // N.K. Jemisin, Black Futurist Speculative Fiction Writer, Author of "How Long 'Til Black History Month" and several short stories and novels
It's mid-February, and like every year, professionally I'm sitting in the conversations around what we do about the fact that this month means Black History Month. At this point, so much of what we do around acknowledging BHM, at least in education, feels rather rote. There's the trotting out of Black Facts about what the stagnant state of progress, or its glacial movement, is for Black America. There are the profiles of Unknown Black Figures from history; mathematicians, scientists, activists, inventors, disruptors and the like. There are the calls for remembering, calls for donating, calls for calling a Black person, calls for calls to action for Black lives. And now more than ever, in that way we culturally say "now more than ever", which is now more than ever about whenever something racially dangerous to Black people happens, there's a tribunal waiting to watch how any of us, all of us, do or don't respond. It now means the added scrutiny of how, if at all, organizations, peers, co-workers, acquaintances, brands, banks, and universities – everyone, everywhere is being watched for all the ways we look back and at what's going on with Black Americans' lives and experiences.
Here at Catalyst:Ed, we've been immersed in the same conversations and feeling the same weight now that February is here. The hoary winter of racism has of course already frosted all of our windows this year, but now more than ever, there's a weight – even for me, as Black American, an educator and a writer on race – on how or what showing up for Black History Month looks like. Retweeting Black people in our network felt like such a passive action; tweeting profiles, organizations, and contributions by Black people in our network felt tokenizing and rather condescending to suddenly do. Trotting out Black stats felt rather staid; what could we actually contribute to this month that didn't honestly feel performative?
Now more than ever, I find myself oriented towards the future – a Black future – and not at the expense of the past, but because of the past. It is still unclear what to expect out of a Black future, though our ongoing present has continued to be instructive and hopeful. On the backs of Blacks the United States was made, and on those same backs the country has continued to be carried forward, albeit stubbornly, as evidenced not only by the peaceful protests of 2020, but the efforts of Stacy Abrams' team in Georgia. It is the pull of cultural conversations, seen in everything ranging from the arts, to politics, to Zoom rooms to the streets. And what does this prove? Amongst many things it proves is the through-line of that truism: that Black history is constantly being made as American history, and the country is continually being made – and that separating those things can feel limiting and inauthentic. It is the familiar way that you see and hear the need, as a result, to exhume Black history and stories; to reignite the visibility that we've always been here since people decided to steal and then 'found' this country, and that as we have toiled, we have also created and magnified that broken American Promise for the betterment of everyone.
And so, if we've been America's past, and continue to be in America's present, we need to also start creating the stories for America's future in a way that includes, values and follows Black stories and people whenever possible.