Although calls for equity-centered social and emotional learning (SEL) are longstanding, the renewed sense of urgency to center equity-oriented SEL in schools during the 2021-22 school year spurred Catalyst:Ed to bring together a diverse group of education leaders and practitioners to discuss how to center the social and emotional needs of students, families, and communities amid unfinished learning, staff attrition, and other challenges exacerbated by the pandemic. In late July of 2021, we convened 25 educational leaders and service providers with deep expertise in SEL and/or Family Engagement from our network to engage in a two-day action sprint. This report, and accompanying synopsis, capture direct excerpts from their discourse and summarizes the primary themes touched on in these discussions
In this report, you will find:
how insights from our conversations with leaders primarily fit two broad threads: 1. The imperative that schools address SEL 2. How to address SEL through an equity lens

a summary of the top five barriers to prioritizing SEL they discussed, including direct excerpts from their discussions.

promising practices to prioritize social emotional learning with video clips centering on examples of how some of these leaders engage in the practices and resources to kick start your own practice.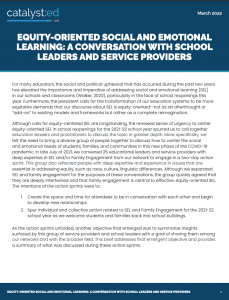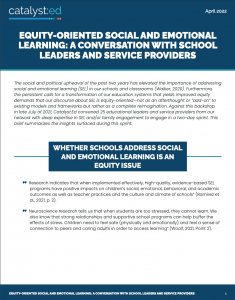 Watch and hear how leaders are putting SEL into practice
Browse through the full playlist of nine conversation excerpts with school and district leaders giving practical examples of addressing SEL through an equity lens. You can preview some of the videos below and hear from the school and district leaders featured. 
Denise Alexander, principal and executive director of The Bronx Charter School for Children in New York, N.Y., discusses adult wellbeing.
Vera Triplett, Ph.D, founder and CEO of Noble Schools in New Orleans, La., discusses setting priorities during the pandemic.
Kisa Hendrickson, chief engagement and partnership officer at Highline Schools in Burien, Wash., talks about navigating day-to-day realities and building capacity.
D'Andre Weaver, Ph.D., Superintendent of Schools at DeSoto ISD in DeSoto, Texas, speaks on engaging stakeholders in decision-making processes.
Join the SEL Collective 
The insights summarized in this report are not comprehensive nor exhaustive, but they are a starting place, and the conversation will continue. If you are interested in joining the SEL collective mailing list, please sign up here.