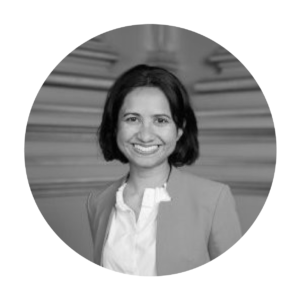 by Leona Christy, CEO at Catalyst:Ed 
Catalyst:Ed and Goodbets are proud to present the Arc Collaborative, a fellowship for "equity-focused" consultants and technical assistance providers of color. Here we share about how our stories led us to launch this initiative. 
---
Last December, I came across a newsletter article by Nicole Jarbo about the challenges of growing and sustaining an organization in the education space as a founder of color. This was a story I knew too well since it used to be our story at Catalyst:Ed. It was still the story of many of the experts of color in our network. I emailed Nicole and we set up some time to talk. 
At that time, few people outside of our team knew the origins of Catalyst:Ed. I had relied on my savings to launch the organization in 2015. Within a few months, we had set up the basic infrastructure, started the expert network, matched our first few projects, developed a fee-for-service model, and established early proof-of-concept. I assumed that funding and support would follow. That is not what happened. Those years were my own long, lonely trudge through the desert. As a woman of color and an immigrant with no access to funding networks, it was nearly impossible for me to pass through the glass wall that separated me from the rarefied world where decisions were made and resources allocated. Like other founders of color, I heard lots of messages: My vision was too bold to be realistic, it wasn't bold enough to have an impact. I was trying too hard, I wasn't trying hard enough. I needed to shift my strategy, I needed to stick to my path. Through all of this, I rarely got the sense that I was being heard or supported. 
Those early years were incredibly hard — financially, mentally, emotionally. I had to learn on the job about what's needed to build, grow, and sustain an organization. I had to create my own support networks. I had to learn to trust my own intuition. Yet, despite all the hardship, I know I was one of the lucky few because just when I had reached the end of my line and was ready to throw it all away, we received our first grant. 
I saw our story mirrored in the experiences of many of the consultants and technical assistance providers of color in our expert network. As a sector, we talk about how we want to support and work with leaders and entrepreneurs from marginalized communities. Yet, here were leaders of color who were doing exemplary work across a range of areas, yet did not receive the support they needed to build, grow, and sustain thriving businesses. Some had just a few weeks of cash in the bank. Often, they were seen as "good enough" for smaller projects with smaller organizations, but "not yet ready" for the larger, longer, more public-facing work that could fuel growth. Almost all were grappling with the same kind of questions as I did, as they tried to do far too much, with far too few resources. 
After Nicole and I chatted, I remember thinking "She gets this." As the founder of Goodbets, a consulting firm that advises education leaders on strategy and fundraising, this had been her story too. She had experienced the same challenges and overcome the same blocks as I had, and sensed that entrepreneurs needed support that was both individualized and holistic so that they could translate their visions to reality.  
When COVID-19 and the contemporaneous incidences of racial violence raged across the United States earlier this year, we at Catalyst:Ed received our call to action. We saw the disproportionate impacts on the consultants of color in our network, especially those who were equity-focused, as projects were stalled or were significantly altered in scope and scale. Factors such as limited access to startup and growth capital, the low budgets and margins associated with DEI services, and the lack of steady revenue streams added to their sense of financial vulnerability. At the same time, we knew that the need for a diverse and robust ecosystem of equity-focused providers was greater than ever before. As a sector, we needed these leaders to bring their skills, experiences, perspectives, relationships, and capacities to the task of reinventing our education system. We conceived of a fellowship program for equity-focused consultants and technical assistance providers of color, and on receiving funding from the Bill & Melinda Gates Foundation to incubate this program, we turned to Nicole to make it happen. 
Catalyst:Ed and Goodbets are proud to present the Arc Collaborative. Our brief to Nicole was simple: create something that would help this group of entrepreneurs build businesses that were more likely to sustain and grow. After surveying and interviewing many providers in our network (and some outside) and studying other fellowships that exist, Nicole has channeled all that she's heard and her own years of experience to create something that is responsive to the needs of providers of color and truly unique and valuable for the sector. It will offer participants the opportunity to learn from each other, hear from leaders who have successfully walked the path before them, and build their own skills and confidence. We feel honored to have had the opportunity to work with her and support her vision. 
Here's our big, unapologetic vision for the Arc Collaborative: It will foster entrepreneurs of color who are confident in their vision and in their abilities and who feel supported as they step forward to make their mark, on their own terms. It will challenge the narrative that "expertise" and "a big, bold vision for change" belong only to leaders who look and sound a certain way. It will create pathways so that an entire swath of the sector is not denied access to the funding and access it needs to grow, sustain, and have a huge impact. The providers of color we know deserve this, and the sector needs this. 
Applications for the Arc Collaborative are now open. Interested in learning more, nominating someone you know, or supporting this program? Visit www.arccollaborative.org or email Nicole ([email protected]).