The role of Catalyst:Ed's postsecondary team in this education transformation work is to address the root causes of systemic issues and create a space for postsecondary leaders and their teams to collaborate with like-minded institutions and organizations to undertake the work of eradicating historically racist and discriminatory policies, practices, and procedures. The following resources, tools, and network planning work are designed to help leaders and faculty at higher ed institutions create pathways of equity and better recognize how inequities show up on our college campuses.
Strategies for Advancing Equity in Higher Education through Systems Analysis 
This publication, written in collaboration with Complete College America and the Gardner Institute, serves as a case study outlining how thirteen higher education-serving nonprofit organizations came together to undertake a root cause analysis and build out a fishbone diagram to better understand the various ways that inequitable systems, processes, and structures show up on college campuses.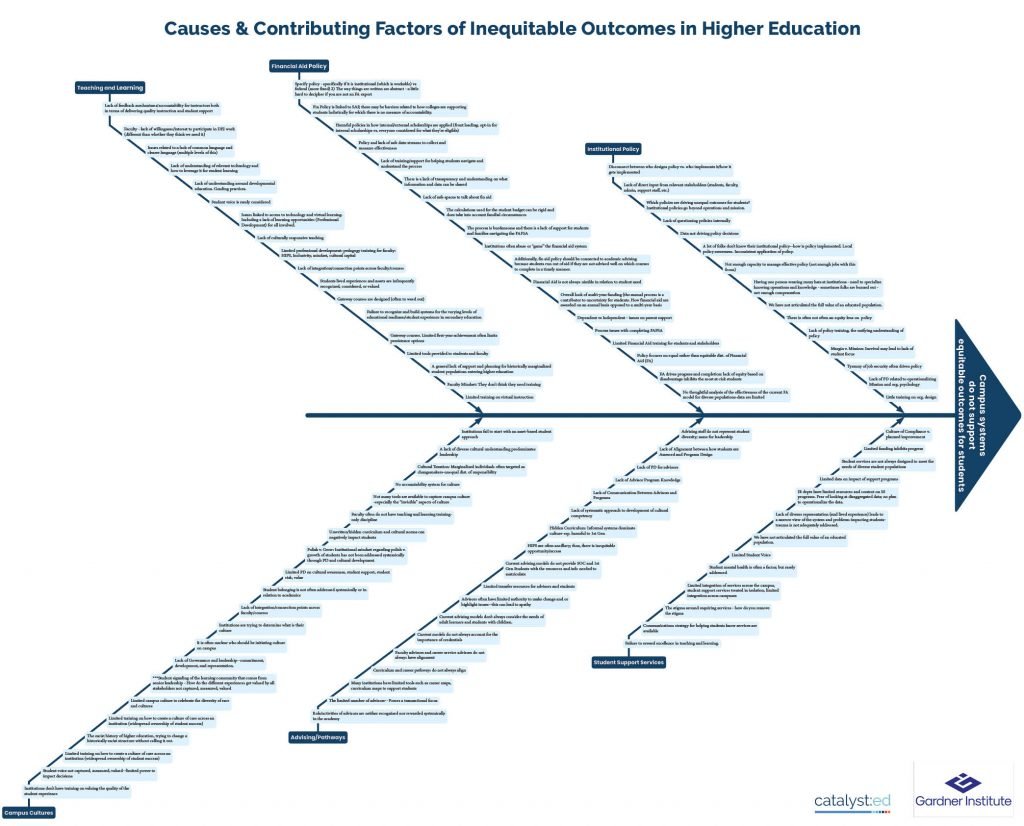 Changing Perspectives Literature Review & Strategy
In our work with institutions, we seek to specifically identify the ways that inequity shows up on their campuses. In order to do that holistically, we engaged in a root cause interrogation of the inequities that we see across the thousands of institutions that we serve. The four focus areas around which this paper is organized were the primary drivers identified in our analysis: campus culture, academic advising and student support, financial aid, and institutional policy. We engaged the support of Changing Perspectives to review the literature, help us learn how these primary drivers show up on campuses, and identify strategies to mitigate or eliminate barriers caused by the ways our current programs, policies, and practices lead to systemically racist systems. 
This paper distills some of the key research findings in these four focus areas and then provides concrete strategies that institutions and their intermediary partners can use to further their work toward institutional transformation in support of equitable outcomes for historically excluded students. 
Barriers to Data Cultures & Literacy Literature Review
In December 2020, the 13 organizations that constitute the Bill & Melinda Gates Foundation Intermediaries for Scale (IFS) launched their Data Working Group (DWG). As part of its work, the DWG seeks to more deeply understand barriers related to a culture of data literacy within institutions of higher education (IHEs) and develop strategies to address these barriers. In late spring of 2021, the DWG members generated a list of barriers they observed in their work to support cultivating data cultures and data literacy at IHEs as a preliminary step to identifying promising practices for addressing data capacity needs. This report summarizes the findings of an exploratory review of the literature to answer what are the root causes of the lack of infrastructure and resources and limited training on how to use data.
Podcast Mini-Series
In a special, six-part mini-series developed by Catalyst:Ed's postsecondary team and produced and featured on the "Just A Thought" podcast, we'll share insights into the innovative work our postsecondary partners are leading at colleges and universities across the country to close equity gaps for minoritized students. This project was done in collaboration with the Intermediaries for Scale Equity Working Group with support from Tides and the Bill & Melinda Gates Foundation.
Higher Ed Equity Network
The Higher Ed Equity Network's vision is for higher education to be a launching pad that dramatically improves the economic and social mobility of Black, Latino/a/x, Indigenous, and other historically underserved students. Achieving this will require changes in postsecondary policy and practice.